ANCHOR IRON
LATEST NEWS &
UPDATES
---
45 YEARS AT THE MINNESOTA STATE FAIR
Anchor Iron has been a fixture at the Minnesota State Fair since 1977, from our location in the area of the Fair now known as West End Market; but our products have been at the Fair since 1975. Let me explain …
This area in the NW part of the Fair grounds was originally constructed in 1964 as the "Young American Center," a mid-20th century attempt to make the fair relevant to the burgeoning teen market. (The name soon contracted to simply "Young America.") It featured a main stage where national touring bands and prominent local bands played, plus two smaller stages for more bands. Vendor offerings leaned toward "hippie craft" of beads, headbands, fringed leather vests, funky hats and so forth.
In 1975, with youth culture waning and America's Bicentennial on the horizon, the Fair converted this area to "Heritage Square" with vendor offerings and architecture following a turn-of-the-century vintage vibe. One enterprising gentleman with a State Fair vendor's license in his pocket saw a fit for our style of cast iron and metal crafted gift items in the new Square, so he bought an assortment of our merchandise and resold it from his booth in Heritage Square. After two years and the passing of the Bicentennial he offered the space to us, we said yes, and Anchor Iron has been a proud presence at the State Fair ever since.
In 2014 Heritage Square gave way to the $15 million revamp (and last piece of the Fair's 16 year, $140 million master upgrade plan) called West End Market. This major renovation incorporated a main transit hub and transformed the Fair's "back door" into a major entrance. Our new booth is in a great location and our days at the Fair have never been more fun. Our family's participation in the Great Minnesota Get-together is a proud tradition.
After 45 years at the State Fair, this year became a special one when a WCCO News Director stopped by our booth. They were doing a segment on State Fair vendors and she invited us to come to their booth the next day, display some of our items, and talk about Anchor Iron with news anchor Amelia Santaniello. It was fun to do and great to be recognized Here's a link to that segment.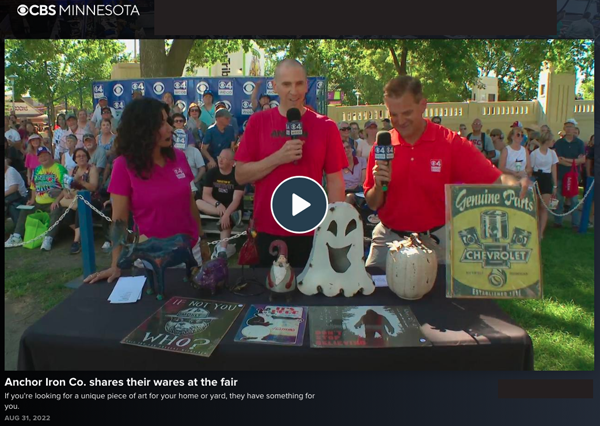 ____________
[MN State Fair history notes per Jerry Hammer, long-time Executive Vice President & General Manager of the Minnesota State Fair (https://carnivalwarehouse.com/newsserver/659), and personal recollection.]
---
RECONSTRUCT vs. REFURBISH
Refurbishment of ironwork by a skilled, qualified shop is usually more cost-effective than designing and constructing a new railing, but there can be other reasons to keep the old over the new. One of those reasons is to preserve designs that are unique and nearly impossible to replace. Like the restoration of artwork or a rare antique, you keep the original work and bring it back to life, rather than make a copy and scrap the original.
Anchor Iron recently did a complete refurbishment and reinstallation on a pair of small, decorative porch railings. We estimated these railings to be about 50 years old, with a classic S-scroll design, a unique upswept tail on the handrail, and a double scroll descender down the steps.
In the before photos here, you see a railing displaying years of wire brush scrape-and-paint maintenance followed by neglect. The only two options are total refurbishment, or total replacement. We removed the railings, had them sand-blasted and re-painted, and reinstalled them with new hardware - literally "as good as new." Durability is one of the advantages of good ironwork, that it can be fully restored and remain as strong and beautiful as the day it was made.
This project is a good example of going with "refurbish" over "replace." These small railings are beautiful and unique. To design and build an exact replica would cost considerably more than the refurbishment, and I don't think it would be as satisfying.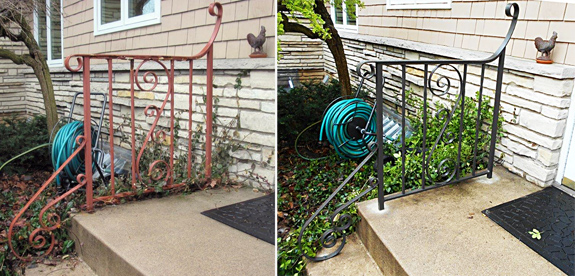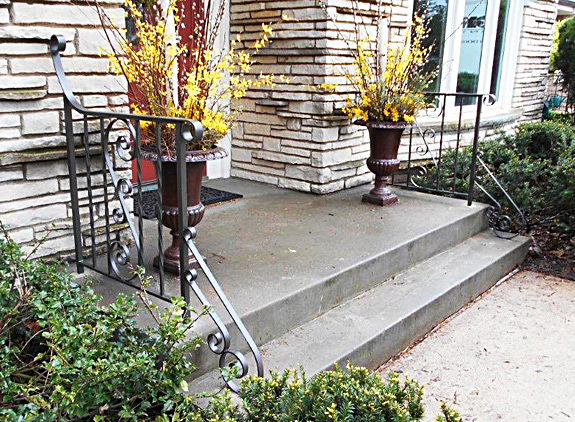 ---
ANCHOR IRON at WOODSIDE CEMETERY
Anchor Iron, Co. recently had the honor of participating in an act of historical significance and community pride with the design, fabrication and installation of an entrance archway identifying the 150-year-old Woodside Cemetery in Shorewood, MN. The large metal arch and sign, installed November 26, 2015, was commissioned and donated by Chanhassen resident Elaine Dunn, who entrusted Anchor Iron with carrying out her vision.
Ms. Dunn's husband was buried at Woodside Cemetery five years ago, and she had found in her own experience that the cemetery was very difficult to find—especially for out-of-town visitors coming in for a funeral. Both Elaine and her son, Kelly, are also members of the Excelsior-Lake Minnetonka Historical Society and have a strong interest in genealogy and local history.
"This is one of the most historical sites in Shorewood," said Kelly Dunn. "There are a lot of connections with Woodside from a lot of people in the Shorewood area."
This history was another reason Elaine donated the sign, so Woodside could be formally identified as a historical site in the community.
We're very proud to have been chosen for this project. You can read the whole story with a photo of the Dunn family here: SUNSailor article
---
ANCHOR IRON at ANDERSEN HOUSE
When Andersen Windows & Doors in Bayport, MN wanted to create a showcase for their products, they decided to renovate a house on their campus into a meeting/conference space. The result was Anderson House. Anchor Iron was contracted to manufacture and install the patio railings for builder Moser Homes, from a design by Sala Architects.
The Anderson House patio overlooks the beautiful St Croix River, and our unseasonably warm November weather made the 3-day install a breeze. Overall, the warm and 'snowless' beginning to this winter has given all of us in construction the opportunity to complete projects quicker and easier than is typical for this time of year.